Elizabeth Gilbert is probably best known as the author of the uber-successful memoir Eat, Pray, Love, subsequently adapted into the movie of the same name. Her newest book Big Magic is also a memoir of sorts, but more in a self-help vein: a "self-help memoir" for those of us who struggle with creativity.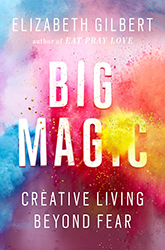 As a self-help book, Big Magic broadly outlines ways to approach living a creative life, while as a memoir, it personalizes that journey with stories and examples from Gilbert's own experiences. Her goal is to help readers live a creative life, which she is careful to clarify does not specifically mean pursuing a career in the arts, but rather "living a life that is driven more strongly by curiosity than by fear." In practice, though, the book tends to skew more toward traditionally artistic endeavors, simply because Gilbert writes from her own experiences as an author.
Some people believe that creativity is a mystical state of invention, and some believe passionately in the daily rituals people practice in order to do creative work. Gilbert seems to fall somewhere in the middle, asserting that while real work is definitely necessary for living a creative life, there are genuine moments of magic that emerge and need to be acknowledged as well. "I believe we are all capable at times of brushing up against a sense of mystery and inspiration in our lives," she writes, and some of the best parts of the book are her stories about how creativity strikes people differently.
Gilbert also goes into the nitty gritty of wrestling with creativity on a daily basis, which resonates with me as a creative professional and someone who strives to maintain a sense of wonder and curiosity about life. I don't always respond to Gilbert's voice — addressing readers rather familiarly as "Dear Ones", for example — but her rallying cry for incorporating whimsy and magic into daily life as a way to open up creativity is an important one, making Big Magic a valuable read for anyone interested in cultivating a creative life, no matter their vocation.
Following are links to discussion questions and supplemental material for a pro book club discussion of this book.
---
DISCUSSION QUESTIONS:
Unfortunately, there is no official reading guide for Big Magic, so I recommend checking out my Discussion Questions Resources as a starting point for creating your own questions for the book.
SUPPLEMENTAL MATERIAL: