As author Brené Brown explains in the preface of her book, the phrase "Daring Greatly" comes from a speech by Theodore Roosevelt:
"It is not the critic who counts; not the man who points out how the strong man stumbles, or where the doer of deeds could have done them better. The credit belongs to the man who is actually in the arena, whose face is marred by dust and sweat and blood; who strives valiantly; who errs, who comes short again and again, because there is no effort without error and shortcoming; but who does actually strive to do the deeds; who knows great enthusiasms, the great devotions; who spends himself in a worthy cause; who at the best knows in the end the triumph of high achievement, and who at the worst, if he fails, at least fails while daring greatly…"
Her book borrows this phrase to describe a way of approaching life head on and wholeheartedly. In Brown's words, "We must dare to show up and let ourselves be seen. This is vulnerability. This is daring greatly."
Dr. B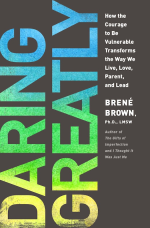 rené Brown is a research professor whose area of expertise is shame and vulnerability, and throughout Daring Greatly, she challenges us to reconsider how embracing vulnerability is necessary in order to live an authentic and engaged life. This idea deeply resonated with me because it's the opposite of how so many of us fundamentally see vulnerability. We tend to think of it as a weakness to be overcome, when in fact, vulnerability is a pretty universal human feeling that can instead be embraced in order to more deeply connect with ourselves and our fellow humans.
For how this philosophy applies to our professional lives, pay special attention to Chapter 6 – Disruptive Engagement: Daring to Rehumanize Education and Work, in which Brown explores how shame and blame erode an organization's culture and effectiveness. To combat this, she offers four excellent strategies for building shame-resilient organizations, based largely on learning how to give and receive honest, constructive feedback. No one wants to look weak at work, but when you stop thinking of vulnerability as weakness and start thinking of it as a way to more honestly engage with work, "daring greatly" becomes a powerful tool on the way to excellence.
Don't be intimidated by Brown's background in social work and psychology. Daring Greatly is eminently readable and surprisingly fun and anecdotal. It's a book I can see myself returning to repeatedly in the future. In fact, I was so inspired by Daring Greatly, I downloaded and printed a copy of Brown's "Daring Greatly Manifesto" to keep in my office at work. (See the link below.) I highly recommend it for anyone interested in rethinking not only how we engage with our work, but with our lives as well.
Following are links to discussion questions and supplemental material for a pro book club discussion of this book.
---
DISCUSSION QUESTIONS:
Brené Brown offers a downloadable reading guide to Daring Greatly on her website. You can also use my Discussion Questions Resources as a starting point for crafting your own questions for the book.
SUPPLEMENTAL MATERIAL: