Walter Isaacson's best-selling biography of Steve Jobs is a great first book for a pro book club.  Not only are biographies a very accessible genre in general, but Jobs was also a colorful, contemporary public figure, and chances are you or someone in your reading group owns or uses an Apple product.  So this biography in particular is easy to relate to.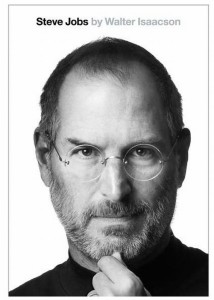 The book itself is very readable and should generate interesting questions about innovation, leadership, and company culture.  There is one caveat, though: this book is long!  Over 600 pages, in the hardcover edition.  Generally, shorter books go over better in pro book clubs, simply because of the time investment required to read them.  This one is worth the investment, but keep in mind the length of the book might be a challenge for some readers.
Following are links to discussion questions and supplemental material for a pro book club discussion of this book.
---
DISCUSSION QUESTIONS:
SUPPLEMENTAL MATERIAL: