I'm a big fan of launching a new pro book club with a book that has the widest appeal possible, and a biography makes the perfect gateway book.  The barrier to entry for a biography is low because most readers will have at least some familiarity with the subject, especially if you choose a widely recognizable, contemporary figure.  And fortunately there are a plethora of interesting people out there, from sports figures to business people to entertainment personalities.  Just be careful: reading group members only have so much time to devote to professional reading and bios can be lengthy, so just make sure you don't pick something too long.  (See here for more tips on choosing books.)
Personally, I'm partial to biographies of creative professionals, probably because I work in a so-called "creative profession."  But even if you don't, creative bios have the benefit of additional accessibility, in that many of the subjects are very well known people.
A couple of my most recent favorite biographies of creative people happen to be by the same author, Brian Jay Jones.  In 2013, he profiled Muppet creator Jim Henson in Jim Henson: The Biography.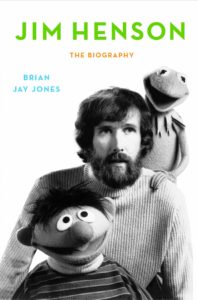 It's a wonderful read about a magical yet very human man who died tragically early.  The book begins with a behind the scenes story of the making of a Sesame Street sketch in which a little girl sings her ABC's with Kermit the Frog, but keeps substituting letters of the alphabet with Cookie Monster, frustrating Kermit and delighting the little girl.  Performing as Kermit, Henson improvises along with the little girl, who thoroughly believes Kermit is real and kisses him at the end of the sketch telling him, "I love you."  It's a wonderful intro to the magic Henson was able to create.  The book ends with an equally magical yet heartbreaking scene, this time at the memorial held in New York following Henson's death, in which puppeteers performed with their Muppet characters in his honor.  Henson's biography is an inspirational story, bookended by tears.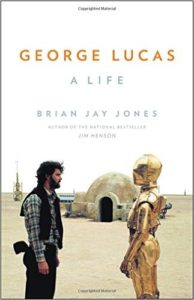 In 2016, Jones followed up his Henson bio with a look at another very well known entertainment figure, Star Wars creator George Lucas.  Ironically, the least interesting thing about George Lucas: A Life is Lucas himself.  The detailed stories of the events in Lucas' life, like the making of Star Wars or the genesis of Lucasfilm and Skywalker Ranch, overshadow Lucas the man, who comes across as a socially awkward control freak.  Interestingly, his desire for control, especially creative control over his own movies, is the force (pun intended) behind his success, both as a filmmaker and as a businessman.  George Lucas: A Life is an illuminating read about one man's significant contributions at a turning point in filmmaking history, but I found Lucas himself to be rather boring.
Following are links to discussion questions and supplemental material for a pro book club discussion of these books.
---
DISCUSSION QUESTIONS:
Unfortunately, there are no official reading guides for Jim Henson: The Biography or George Lucas: A Life.  But feel free to check out Discussion Questions Resources for guidelines on how to come up with your own questions.
SUPPLEMENTAL MATERIAL: